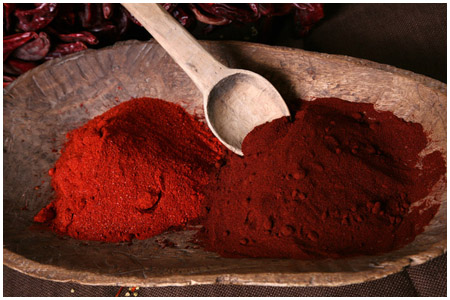 The color, flavor (and price) of red chile is determined by how it is dried. Oven-roasted chile is by far the most common chile sold. The roasting process gives the chile its rich, dark red color and brings out a nice, toasted flavor. Our oven-roasted chile is the Sandia variety which grows 4 to 6 inch chile pods. This chile is available year round at a moderate price. Click here to see our selection of oven-roasted chile.
Sun-dried chile requires a longer process and one in which nearly everything is done by hand. This chile retains its natural orange color as it is not darkened in an oven. The taste is rich, earthy and sweet. The availability of sun-dried chile is more limited and this chile is more expensive. Once you taste the difference you're hooked! Our growers are from Chimayo and other locations in northern and southern New Mexico. We offer Chimayo Heirloom, Sandia, Big Jim and Lumbre varieties. Click here to see our selection of sun-dried chile.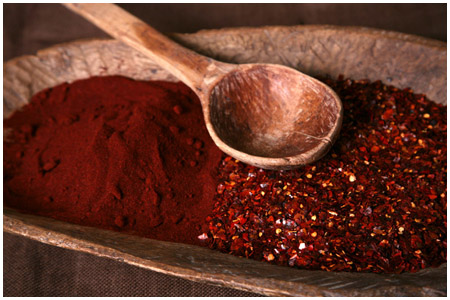 The Chimayo Heirloom chile is an increasingly popular variety. This chile is grown from the original Chimayo seed passed down through generations of growers in the valley. The chile pods are small and therefore more difficult to process. Chimayo Heirloom chile has a unique, rich and earthy flavor. The availability of this chile is limited and it is the most expensive variety. Click here to see our selection of Chimayo Heirloom chile.
We sell our chile as chile molido or chile caribe. Molido is a pure chile powder. Most often, chile powder sold in stores is a mixture of additional ingredients such as garlic powder, cumin or oregano. Rest assured that ours is 100 percent chile. Chile caribe is a crushed chile, again 100 percent pure chile.
If you have a question or wish to place an order contact us at (505) 351-4112
© 2010 El Potrero Trading Post. All rights reserved.